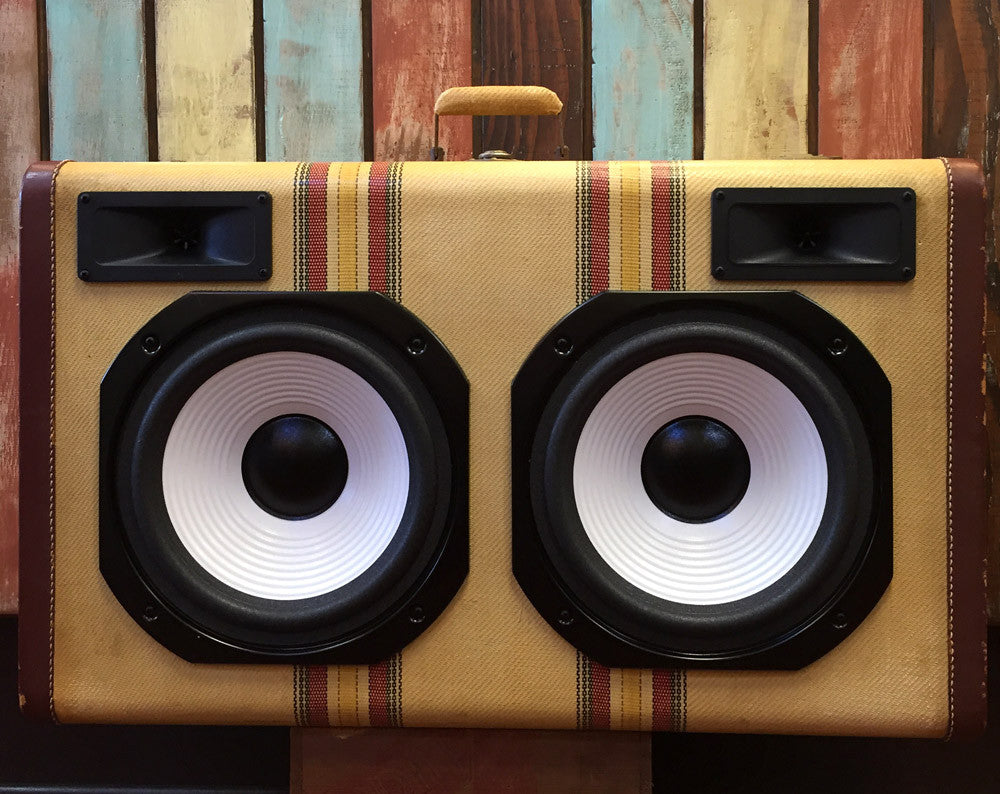 "The Murdock" Vintage Suitcase Boombox
The Murdock
Portable audio boombox for the on-the-go retro lifestyle. Hand crafted by MAKBUILT re-using vintage luggage into FUNKtional art. All other parts are new aside from case.
The Murdock has a 100 watt amp, 8-10 hour battery playback, 2 woofers, and 2 tweeters. Comes with auxiliary cord & charging adapter. Plug into any 3.5mm headphone jack. Compatible with all headphone jack equipped devices.
Plug in Your Music Device (Ipod, Iphone, Walkman etc) with
device volume turned down low. Flip on Box of Boom and
adjust Volume limit to desired level. Pre amped devices can
possibly cause damage if turned up way too loud!
The Rechargeable battery inside will give at least 8-10 hrs
of playback time based on how loud it is being played.
Best to recharge the battery after heavy use (5-6 hrs).
Included Battery Charger takes 5 plus hrs to fully recharge.
Plug in Charger on bottom right side of the Box of Boom
and follow instructions found on top of the Charger itself.
For longevity of the battery, never forget to turn off when
not in use as it could completely kill the battery, leaving
unable to charge. When Battery is low you'll know!
Never attempt to open Box of Boom, it has been sealed
and will cause wiring damage if tried to be opened.